Wheel chair Elevators
Wheel chair Elevators deliver the most simple and direct solution for conquering the deck divide or porch.#157; Smoothly and effortlessly moving straight up and down, from patio to porch, driveway to entryway, backyard to deck, even floor to floor, a Wheel chair Elevator links your inside life with your outside life seamlessly, efficiently and up to 14 feet in height!
Please contact us for the WORLD'S BEST PRICE, Quality, Guarantee, Delivery, Service amp; Selection
Cost Wheel chair Elevator Specialists
Yelp BBB A+ Rating TrusLink Yahoo RentItToday Yellow Pages Disaboom LinkedIn FaceBook YouTube
Residential and Commerical . . . NEED A COMMERCIAL Wheel chair ELEVATOR INSTALLER? . . . CALL 800-727-1954
Standard 4 - 5 Feet . . . Up to 14 Feet
Sales, Service, Delivery amp; Installation
Before you buy a Cheap Wheel chair Elevator,
Compare Price, Quality, Guarantee, Service and Installation.
Vertical Platform Lifts can be quite simple to complicated. Most Wheel chair Elevators and Porch Lifts are quite easy and straight forward.
We highly recommend the Macs Lift Wheel chair Elevator Porch Lift because of its simplicity and ease of use for those who need under 5 feet and is available throughout the USA.
The Harmar Mobility Scooter and Wheel Chair Lift is a heavy duty unit that can go up to 12 feet and is available throughout the USA.
The Bruno VPL-3100 Vertical Platform Lift goes up to 12 feet and comes with our own expert Bruno Wheel Affordable Chair Elevator Lift VPL-3100 installation if you live in California.
The Sale Price Trus-T-Lift Wheel chair Elevator Vertical Platform Lift comes in Commercial Grade that is the perfect Vertical Platform Wheel chair Scooter Mobility Lift for Commerical Applications up to 12 Feet.
Please call ElectroEASE Wheel chair Elevator Porch Lifts Today, and let us go over your needs; and we will gladly give you a price quote over the phone 800-354-5040.
Discount Porch Residential or Commercial Wheel chair Elevators
Cost Wheel chair Elevators by Mac Vertical Platform Lifts, Trus-T-Lift Wheel chair Elevators, Bruno Disability Mobility Scooter Lifts, Harmar Commercial Harmar Wheel Chair Lifts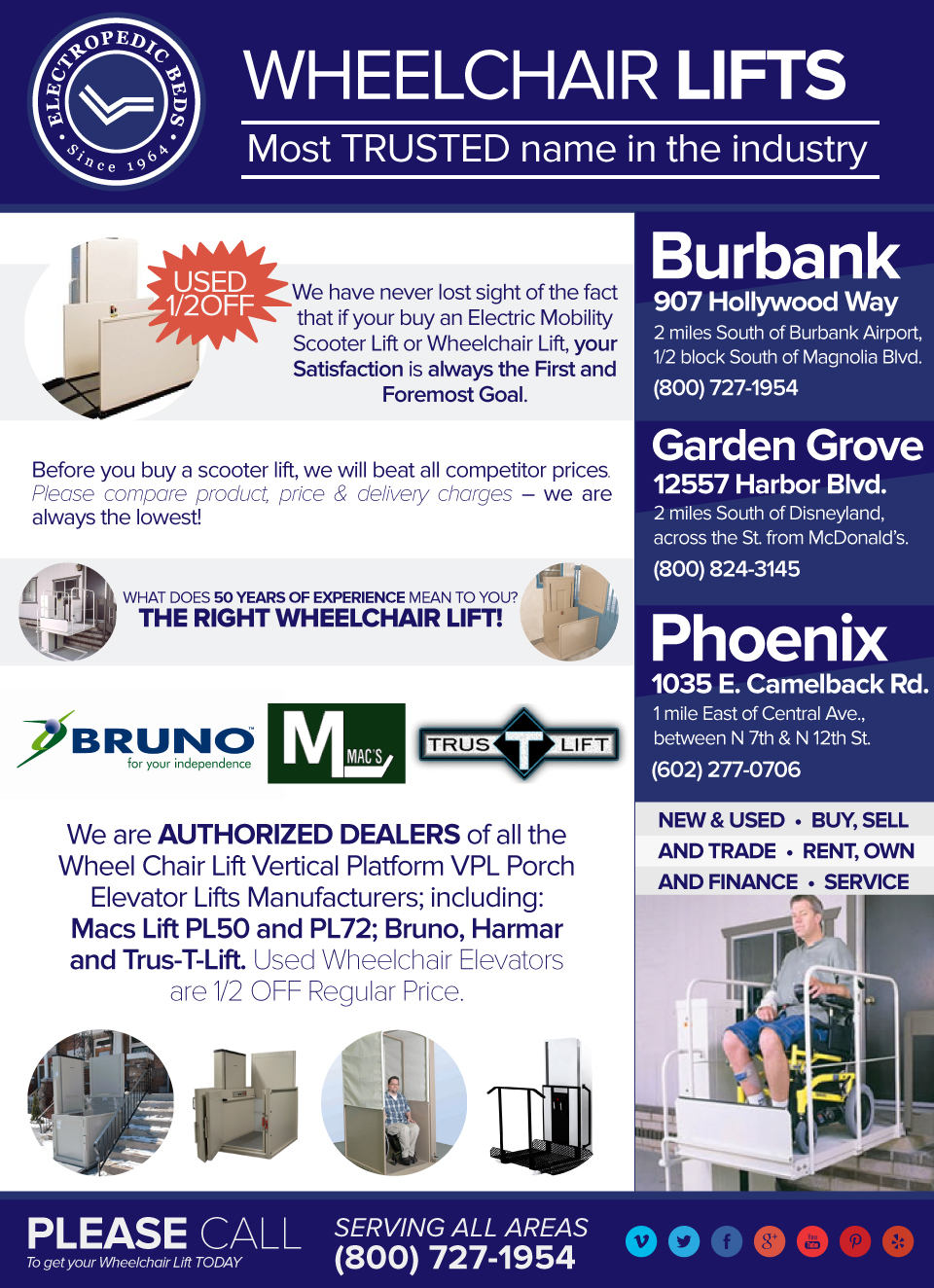 Residential Wheel chair Elevator Specialists
ElectroEASE Wheel chair Elevators 907 Hollywood Way, Burbank CA 91505 800-233-7382
BBB YouTube City Search Yellow Pages Yelp Yahoo Google Map Merchant Circle about contact Burbank Facebook
ElectroEASE Wheel chair Elevators 12557 Harbor Blvd., Garden Grove CA 92840 800-824-3145
Yelp BBB Review and Rating Local Google Map Orange County City Search Yahoo Green Yellow Pages YP.com Superpages City Search
ElectroEASE Wheel chair Elevators 1035 E. Camelback Rd.,Phoenix AZ. 85014 (800)733-1818
BBB Rating and Review Yelp Rating and Review Yahoo local Local Map City Search Dexknows White Page

SERVING ALL USA!

COMMERCIAL/WORLD'S LOWEST PRICES
800-354-5040

---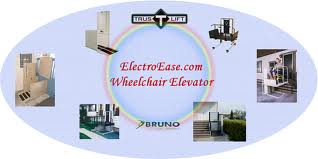 Showrooms in Phoenix AZ., Burbank-Los Angeles CA and Orange County CA
Wheel Chair Elevators Wheel Chair Lifts are available from several manufacturers. We are authorized dealers of all the Manufacturers of Vertical Platform Lifts. Harmar Vertical Platform Lifts. Some Mobility Scooter and Wheel Chair Lifts are designed for both Residential and Commericial Use. Bruno VPL-3100. Porch Lifts allow you to enter and exit by yourself if you are on an electric Wheel chair or mobility scooter. Porch Lifts. Wheel chair Elevators are available for immediate shipping, or if you visit one of our showrooms for possible next day installation. Macs Lift. Mac's is an excellent manufacturer of Vertical Platform Lifts for under 5 feet tall. VPL's go up to 14 feet by Trus-T-Lift Trus-T-Lift, Bruno and Harmar. Wheel Chair Lift. We have some Used Electric Wheel chair Elevators for 1/2 OFF! Call 855-233-7382 for availability. Used Electric Wheel chair Elevators. See some of our Porch Lifts available on You Tube. If you actually want a mobility wheel chair lift for your car, see our Automobile Vehicle Mobility Lifts for Wheel chairs and Scooters and Stair Lifts Stair Lifts Yahoo Vertical Platform Lifts Porch Wheel Chair Lift Porch Lifts Superpages Vertical Platform Porch Lifts Wheel Chair Lifts Disaboom Trus-T-Lift Harmar MacsLift Bruno Mobility Lifts
---
1035 E. Camelback Rd. Phoenix AZ. 85014 602-277-0706 (800)733-1818 BBB Yelp local Yahoo DexKnows YouTube
907 Hollywood Way, Burbank CA 91505 818 845 7489 800-233-7382 BBB Yelp Map
12557 Harbor Blvd., Garden Grove CA 92840 714-636-3561 800-824-3145 BBB Yelp Merchant Circle Map
EXCELLENT
SERVICE.

CONTACT US!

SERVING
ALL AREAS

FAMILY OWNED AND OPERATED




SINCE 1964

ElectropedicBeds was founded in 1964 by Henry Kraus, and is now run by his two sons,
Philip Kraus and Lloyd Kraus.


A TRADITION OF EXCELLENCE.

1035 E. Camelback Rd., Phoenix AZ. 85014 (800)733-1818 map
12557 Harbor Blvd., Garden Grove CA 92840 800-824-3145 map
907 Hollywood Way, Burbank CA 91505 800-233-7382 map


SERVING ALL AREAS: 800-354-5040

MEMBER BBB
A+ RATING

We have never lost sight of the fact that our success is built upon customer satisfaction:#147;Your 100% Satisfaction Is Our Only Goal!#148;

LIMITED LIFETIME PARTS




WARRANTY

After the original manufacturer#146;s Parts Warranty expires, we will either charge you our Cost or #189; the Retail Price for the Part.

AUTHORIZED
SERVICE CENTER

We are the authorized service center for all our adjustable bed, chair amp; stair lift, wheelchair lifts, mobility scooter and power chair manufacturers.

COMPANY OWNED amp; OPERATED
DELVERY SERVICE

On local deliveries, our own trucks and experienced drivers offer white glove delivery, set-up and product instruction.

cost Wheel chair Elevators, discount vertical platform lifts, cheap wheelchair PORCHLifts, inexpensive mac sale price cost pl50 macs pl72 macslift

GUARANTEED
LOWEST PRICE

Before you buy, we will beat all competitor prices.Please compare product, price amp; delivery charges #150; we are always the lowest!

10-DAY/$75.00 EA.
EXCHANGE POLICY

On local deliveries, all stock items that are not special or made to order, come with a one-time, 10-Day/$75.00 Each Exchange Policy.
907 Hollywood Way, Burbank CA 91505 800-233-7382
Open Mon-Sat 10-5, Sun 12 -4
Serving All Areas: 800-354-5040 Email us what you are basically interested in or call us at 800-727-1954 for an Illustrated Brochure and Price List.
You'll Be Glad You Did!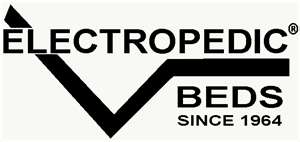 WHEELCHAIR ELEVATOR VERTICAL PLATFORM PORCH WHEEL CHAIR LIFTS SPECIALISTS
---
Anthem Apache Junction Avondale Buckeye Carefree Casa Grande Cave Creek Chandler Coolidge East Valley El Mirage Eloy Florence Fountain Hills Gila Bend Gilbert Glendale Gold Canyon Goodyear Guadalupe Litchfield Park Maricopa Mesa New River Paradise Valley Peoria Queen Creek San Tan Valley Scottsdale Sun City West Sun City Sun Lakes Superior Surprise Tempe Tolleson West Valley Wickenburg Youngtown
Anthem

Apache Junction

Avondale

Buckeye

Carefree

Casa Grande

Cave Creek

Youngtown

Chandler

Coolidge

East Valley

El Mirage

Eloy

Florence

Fountain Hills

Wickenburg

Gila Bend

Gilbert

Glendale

Gold Canyon

Goodyear

Guadalupe

Litchfield Park

West Valley

Maricopa

Mesa

New River

Paradise Valley

Peoria

Phoenix AZ.

Queen Creek

San Tan Valley

Scottsdale

Sun City West

Sun City

Sun Lakes

Superior

Surprise

Tempe

Tolleson
WHEELCHAIR ELEVATOR VERTICAL PLATFORM PORCH WHEEL CHAIR LIFTS: 800-233-7382
Alhambra

Arcadia

Artesia

Avalon

AZ.usa

Baldwin Park

Bell Gardens

Bell

Bellflower

Beverly Hills

Bradbury

Carson

Cerritos

Claremont

Commerce

Compton

Covina

Cudahy

Culver City

Diamond Bar

Downey

Duarte

El Monte

El Segundo

Glendale

Gardena

Glendora

Hawaiian Gardens

Hawthorne

Hermosa Beach

Hidden Hills

Huntington Park

Industry

Inglewood

Irwindale

La Canada

Flintridge

La Habra Heights

La Mirada

La Puente

La Verne

Lakewood

Lancaster

Lawndale

Lomita

Long Beach

Lynwood

Malibu

Manhattan

Agoura Hills

Maywood

Monrovia

Montebello

Monterey Park

Norwalk

Palmdale

Palos Verdes

Paramount

Pasadena

Pico Rivera

Pomona

Rancho Palos
Verdes

Redondo Beach

Rolling Hills

Rosemead

San Dimas

San Gabriel

San Marino

Santa Clarita

Santa Fe Springs

Santa Monica

Sierra Madre

Signal Hill

Arleta

South Gate

Temple City

Torrance

Vernon

Walnut

West Covina

West Hollywood

Westlake Village

Whittier

Canoga Park

Chatsworth

Encino

Granada Hills

Lake View Terrace

Mission Hills

North Hills

North Hollywood

Northridge

Pacoima

Panorama City

Porter Ranch

Reseda

Shadow Hills

Sherman Oaks

Studio City

Sun Valley

Sunland

Tujunga

Sylmar

Tarzana

Toluca Lake

Valley Glen

Valley Village

Van Nuys

Warner Center

West Hills

Winnetka

Woodland Hills

Acton

Agua Dulce

Alondra Park

Altadena

Marina del Rey

Quartz Hill

Riverside

Ventura

Los Angeles

Burbank

Calabasas

Hidden Hills

San Fernando
WHEELCHAIR ELEVATOR VERTICAL PLATFORM PORCH WHEEL CHAIR LIFTS: 800-824-3145
Aliso Viejo

Anaheim

Brea

Buena Park

Costa Mesa

Cypress

Dana Point

Fountain Valley

Fullerton

Garden Grove

Huntington Beach

Irvine

La Habra

La Palma

Laguna Beach

Laguna Hills

Laguna Niguel

Lake Forest

Los Alamitos

Mission Viejo

Newport Beach

Orange

Placentia

Rancho Santa Margarita

San Clemente

Santa Ana

Seal Beach

Tustin

Villa Park

Westminster

Yorba Linda

Riverside

San Bernardino

Orange County

Stanton
---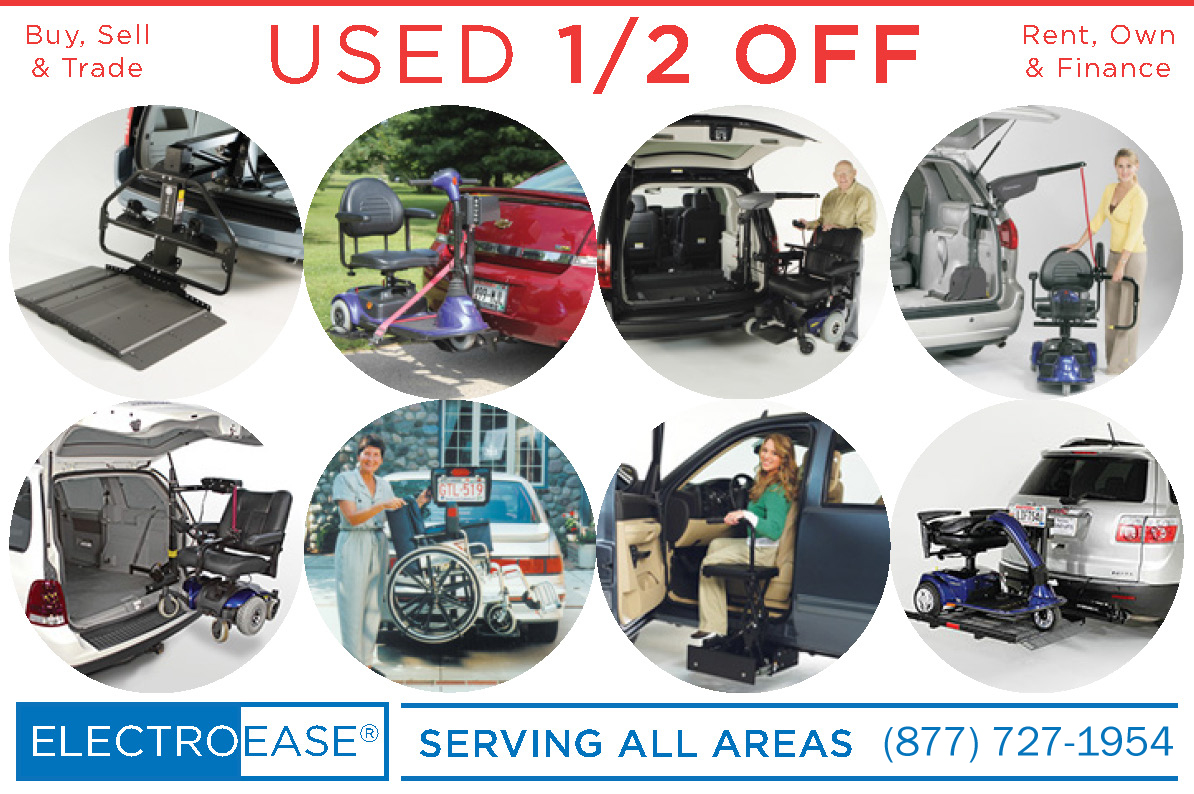 USED ELECTRIC SCOOTER LIFTS 1/2 OFF: CAR, VEHICLE MOBILITY SCOOTERS AND WHEELCHAIRS ARE FOR TRUCK, TRUNK, VAN, INSIDE OUTSIDE TRAILER HITCH CLASS 2 AND 3 HITCHES BY HARMAR, BRUNO, BURR AND PRICE SILVER-STAR

USED ELECTRIC WHEELCHAIR ELEVATOR VERTICAL PLATOFORM LIFTS 1/2 OFF REGULAR PRICE. BRUNO VPL-3100, MACS PLTO AND PL72, HARMAR AND MORE! BUY, SELL, RENT AND TRADE. NEVER UNDERSOLD! ALWAYS THE LOWEST PRICE.
FACTORY SHOWROOMS OPEN MON THRU SAT 10-5, SUN 12-4

cost Wheel chair Elevators, discount vertical platform lifts, cheap wheelchair PORCHLifts, inexpensive mac sale price cost pl50 macs pl72 macslift
WHEELCHAIR ELEVATOR VERTICAL PLATFORM PORCH WHEEL CHAIR LIFTS: 800-233-7382