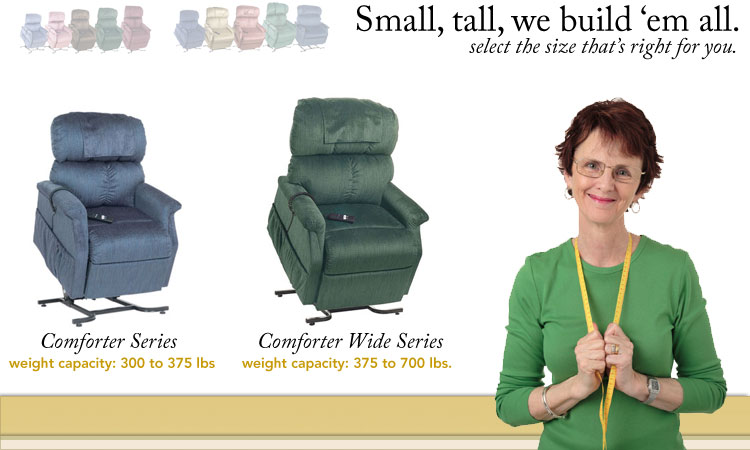 Before you buy an electric medical recliner Lift Chair, we "basically" have to measure you.
A Lift Chair basically has 4 measurements:
Seat to Floor
Front of Seat to Back of Seat
Seat Width
Seat Height
THESE MEASUREMENTS HAVE TO CORRESPOND TO YOUR BODY DIMENSIONS.
Consequently, we have
Petite-Small
Small
Medium
Large
and Tall
The important option that we have is either One-Motor Models and Two-Motor Models:
One motor models completely recline and help you to stand
Two motor models allow you for make many more independent reclining positions: allowing you to adjust your back and your legs to many different positions.
In our 3 Seat Lift Chair Showrooms Garden Grove, CA; Burbank, CA and Phoenix, AZ we try to keep all these Lift-Chair models on display:
AUTHORIZED LIFT CHAIR DEALERS OF PRIDE, GOLDEN AND MEDILIFT Lifetime Service Commitment and Limited Lifetime Parts Warranty.
ELECTRIC-PEDIC® is the most trusted name in Lift Chair and Electric Home Care Products.
"Your 100% Satisfaction Is Our Only Goal!"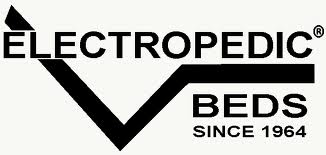 12557 Harbor Blvd., Garden Grove CA 800-824-3145
907 Hollywood Way, Burbank CA 800-727-1954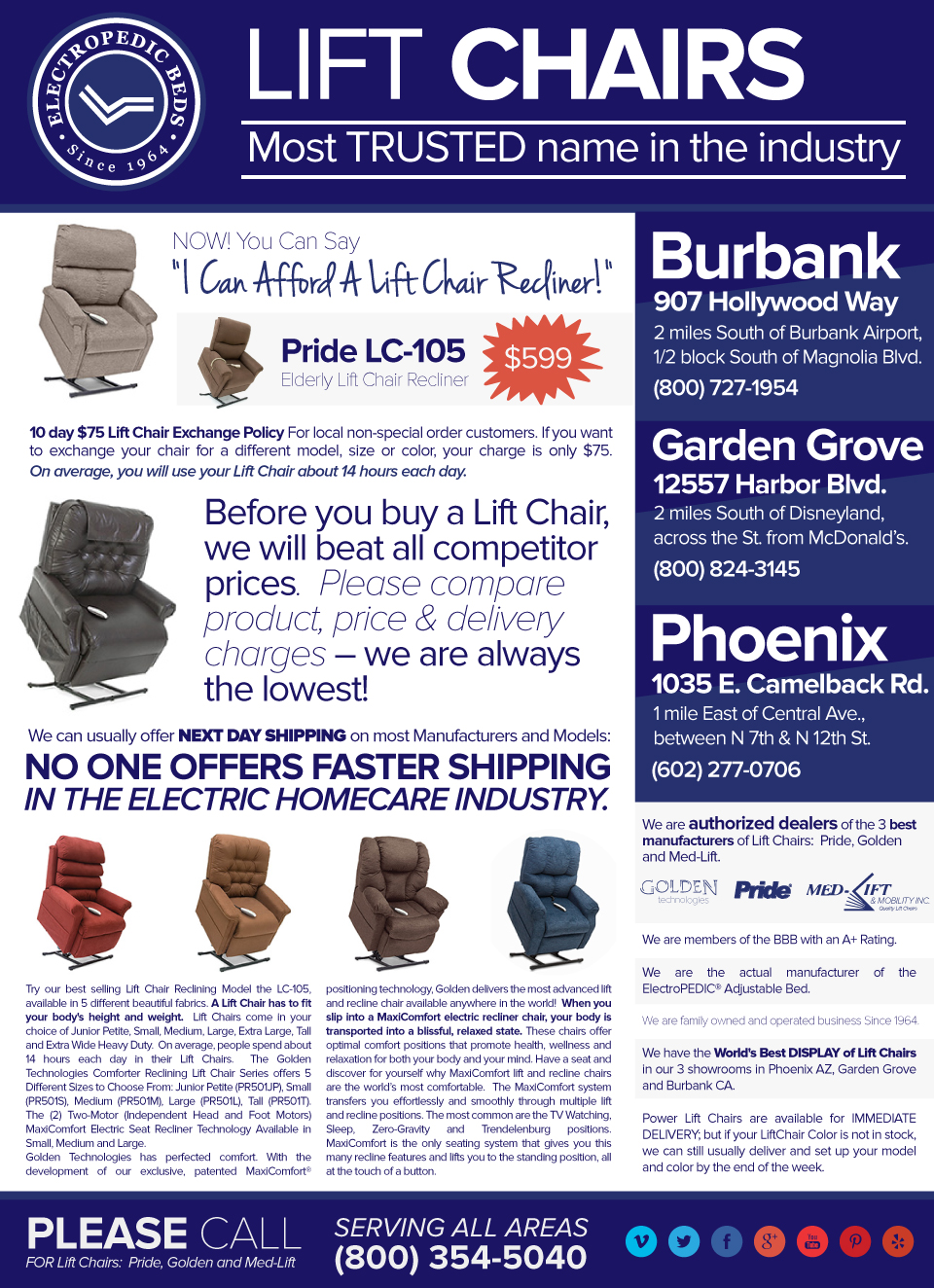 The Comforter Lift Chair Series: The Comforter Lift Chair - Highest Quality at the Lowest Price. Call 800-733-1818
Tired of trying to fit in a lift/recliner that's sized for someone else? Look to the Comforter Lift Chair Series to provide your optimum fit. The Comforter's plush Lift Chair design provides exceptional lumbar support and a full chaise pad for total body comfort. The Comforter Series' 10 sizes will allow you to tailor fit a lift/recliner to your specific needs.
Let Golden Technologies Senior LiftChair take all the worry out of purchasing a lift/recliner. Our expert craftsmen blend the finest components with superior designs to provide you with the utmost quality, comfort and style. We confidently stand behind all our products and provide you with the best warranties in the industry. Choose the lift/recliner that all others are measured against...choose Golden!
NOW! for the World's Best Selection of Senior LiftChair - Serving the entire USA . . . Pride, Golden and Med-Senior LiftChair. Designed for the senior and elderly market, Lift-Chairs are so easy to use, you are going to wonder how you ever waited so long to pamper yourself!. Designed to help you with standing, Lift-Chairs will automatically "stand you" and recline you at the simple touch of your finger, making the approximately 14 hours on average use that you will use your Lift-Chair, more luxurious. Select a lift chair model for your personal use, and take a health break.Senior LiftChair - SERVING ALL PHOENIX METROPOLITAN AREA: Buckeye - Goodyear -Surprise - Peoria - Avondale - Glendale - Tempe -Mesa - Apache Junction - Scottsdale - Fountain Hills - Cave Creek - Chandler Lift Chairs . . . Pride, Golden and Med-Senior LiftChair. Designed for the senior and elderly market, Lift-Chairs are so easy to use, you are going to wonder how you ever waited so long to pamper yourself!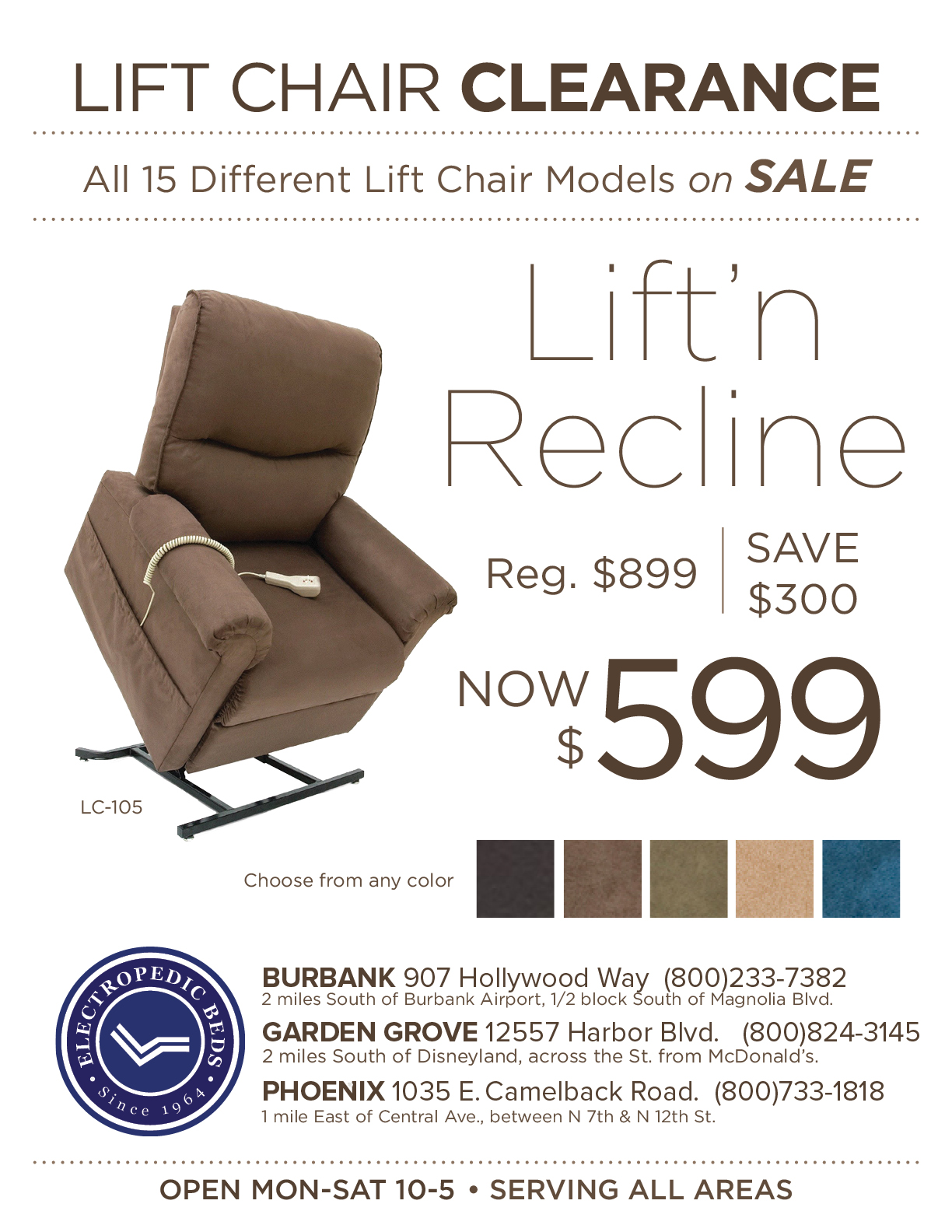 Before you buy a Lift Chair;
Compare: Price, Quality, Guarantee, Service, Selection, Options and Shipping . . . then call 800.733.1818 We've been in the Lift Chair Industry since 1985, and when you have been doing the same thing for 31 years, you get pretty good at it. We need to know your answers to the following questions:
Do you like a lift chair that is Softer or Firmer? Some Senior LiftChair are more padded, some have "pillowy" backs, some are more firm and "tufted", etc.

Are you planning to ever sleep in your Lift Chair? All Senior LiftChair Recline, but most are 3-positions that recline further back. Some models have two-motor infinite positions that allow you to recline into any position, some chairs even have a bed option.

How tall are you? A chair is designed "just like you." We need to know what chair best fits your dimensions: You height from your knee-cap to the floor; from your knee-cap to your lower back; your sitting bones to the top of your head. (Your height is generally all we need).

How much do you weigh? Most Lift-Chairs have a 375lb weight capacity. We need to know how wide of a chair you need. Our Lift Chair models are available up to 700 Pound Weight Capacity.

What Are Your Health Conditions? About 1 out of 5 of our customers buy our 2-Motor Infinite Position Maxi-Comfort/Relaxer Senior LiftChair by Golden; which allows you to independently adjust your back and your legs to any position you desire. If you have Breathing, Hiatal Hernia or Heart Problems you can elevate your back exactly how you like it; If you have Swelling of the Legs or Varicose Veins, you can elevate your legs exactly how you like it. If you have Circulatory Problems, you can actually get your legs above your heart level. If you have Arthritis or Back Pain, you can contour your back and your legs to the most comfortable position that will relieve the strain that creates the pain: every inch higher and lower will be a different weight and pressure on your muscles, bones and nerves - you simply stop where you are most comfortable.

Are you interested in any of our Options: Arm & Back Covers; Leg-Extensions; Scotch-Guard; Vinyl; Leather-like fabric "Brisa"; Heat & Massage, Optional One-Year In-Home Service Warranty.

Shipping or Delivery? Can we ship your Lift-Chair directly to your door; or would you need in-home delivery and set-up.
Our Phoenix AZ Lift Chair Store is Serving Phoenix, AZand we can usually offer immediate delivery to all areas: Chandler, Gilbert, Glendale, Mesa, Peoria, Scottsdale and Tempe. Please call (800)733-1818
NOW! for the best lift chair price, quality, guarantee, service and selection. Please visit one of our 3 factory showrooms where you will see the best display of Golden and Pride Lift Chair Recliners. Compare all sizes, models, colors and fabrics. We have made "Your Comfort Is Everything!" our only business since 1964. Our 50 years in the industry will mean the RIGHT Lift Chair for you!
Lift Chair Recliner

Seat LiftChair

Pride Mobility LiftChairs

Golden 2-Motor Reclining Lift Chairs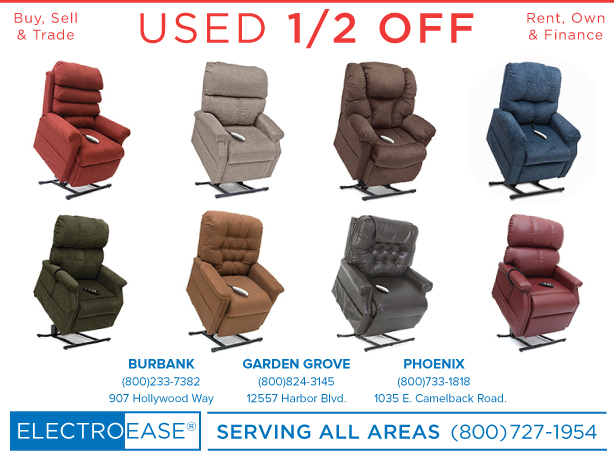 Serving Phoenix, AZ Metro Area: